Supports 1.10 - 1.19
Server Version
OUR HISTORY
The CraftBU project began in Spring 2019. What started off as a small community minecraft server at the BU Gaming Club has developed into a serious project with practical uses.
OUR BUILDERS
The CraftBU builder team is comprised mostly of current BU students. Our team coordinates regulary, with critical attention to detail in order to perfect our builds.
WORLDS
We have Survival, Factions, and Event Worlds on our server, so when you are not exploring our campus reconstruction, you can play traditional minecraft with your friends.
USES
Virtual Tours
Students can organize virtual tours of campus on minecraft. In addition to it being more immersive than existing tour videos, tours can be automated using NPC's following pre-defined paths. Tours can also be hosted and streamed via platforms like Zoom, so that students that do not own minecraft can attend and interact with a guide. Aspects of BU culture such as the BU Seal, Cones and the Frat Rock can be showcased more openly. The ability to eliminate traffic, control the weather, ambient audio, and time of day bring about countless possibilities when it comes to hosting tours.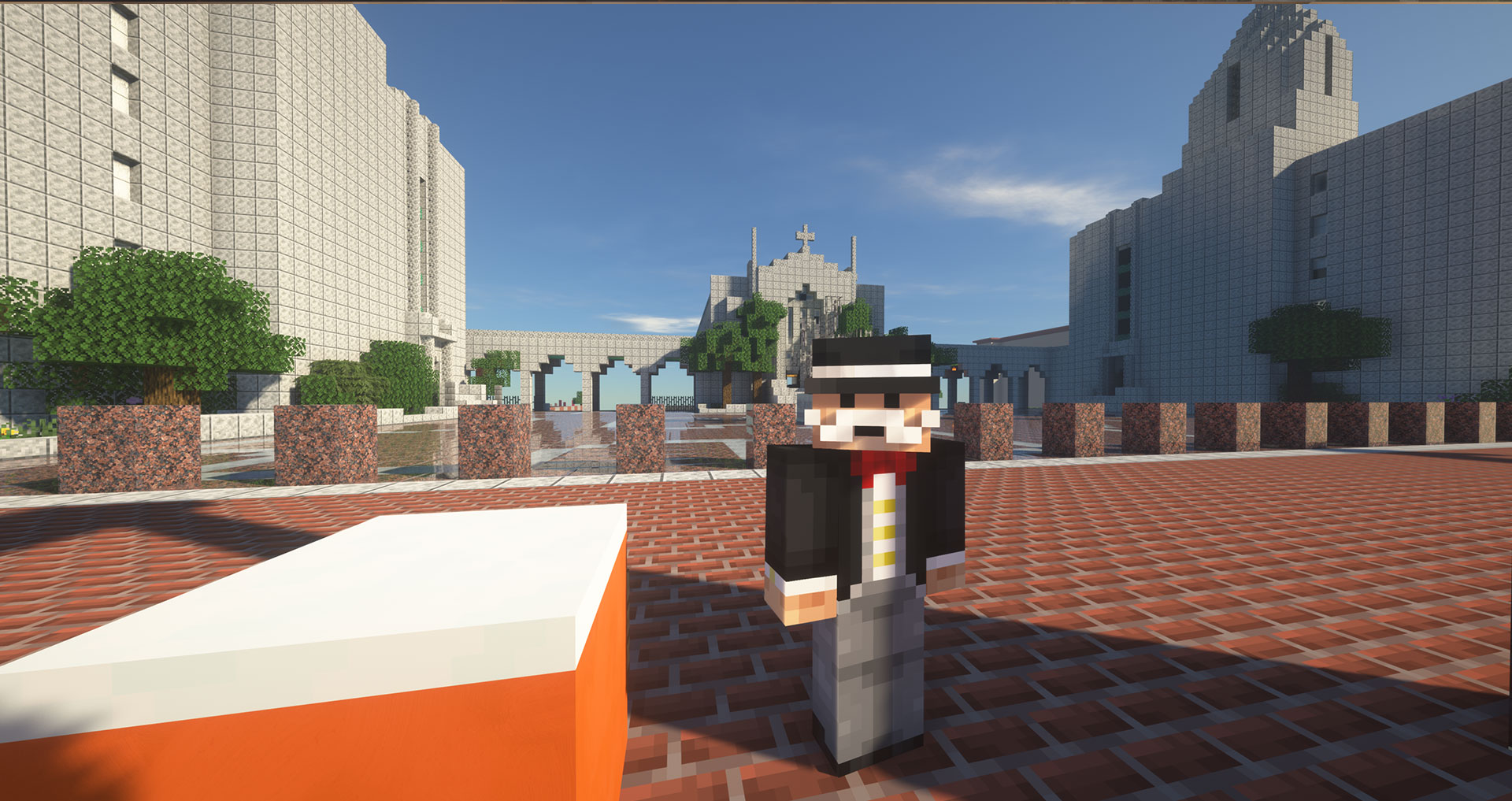 ---
Virtual Events
The virtual environment can also be used to host endless virtual events. Some examples include orientations, graduations, concerts, and classes. Other events that are core to minecraft such as Hunger Games, Treasure Hunts, Capture the Flag and Build Competitions could also be hosted! This year we hosted a Graduation ceremony for over 500 students from all over the world, and even held a smaller event for high school graduates.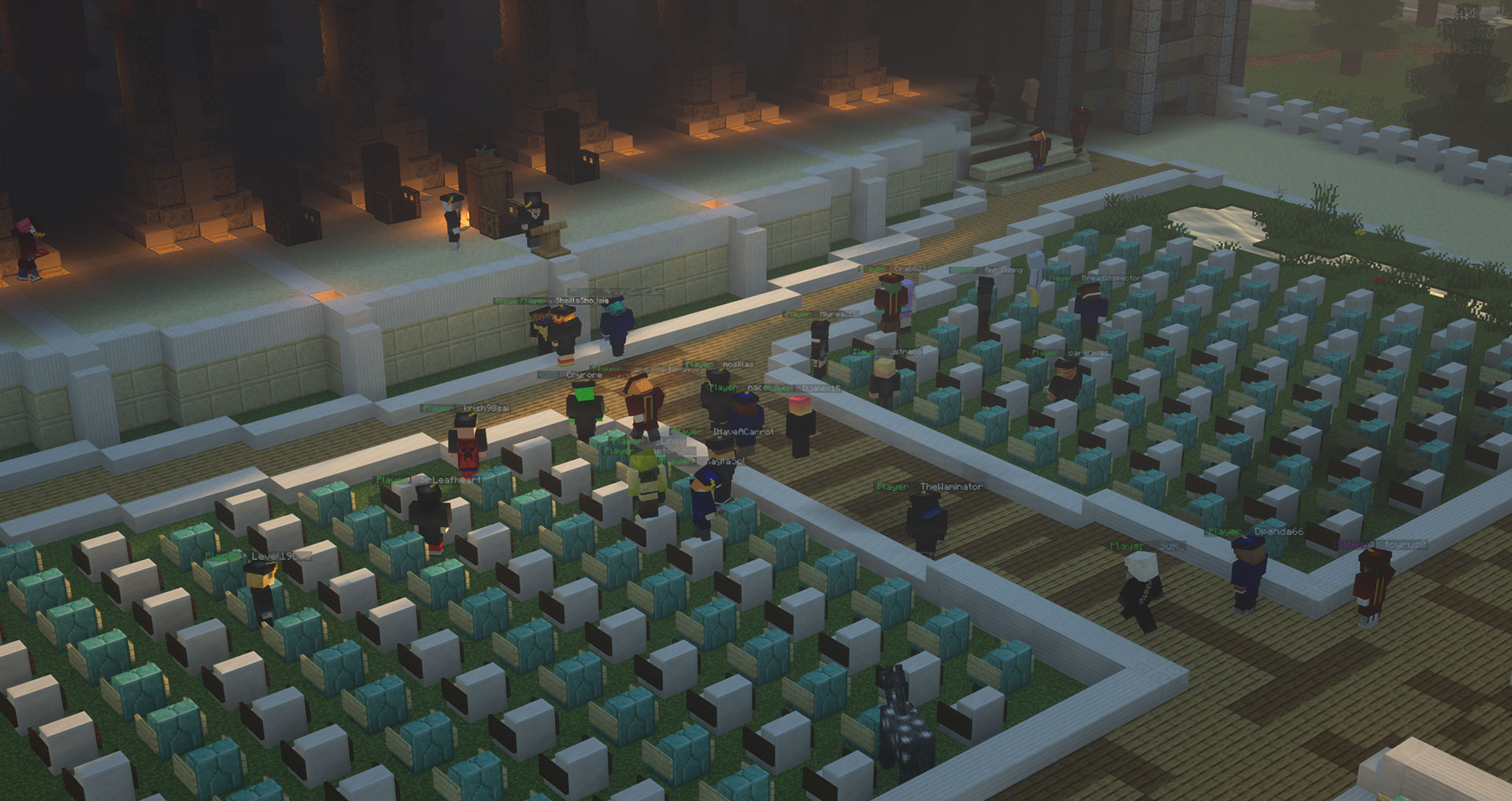 ---
Realistic Route Planning
Google Maps don't tell you how to cut accross buildings or the best path to a class from inside a building. Our build scale is almost 1:1, and has been adapted to the ingame players perspective and properties in order to ensure that it takes the same amount of time for you to walk (or sprint) from one point on campus to another as it would in real life. This is an ideal way to locate a class before the start of a semester and plan your routes accordingly.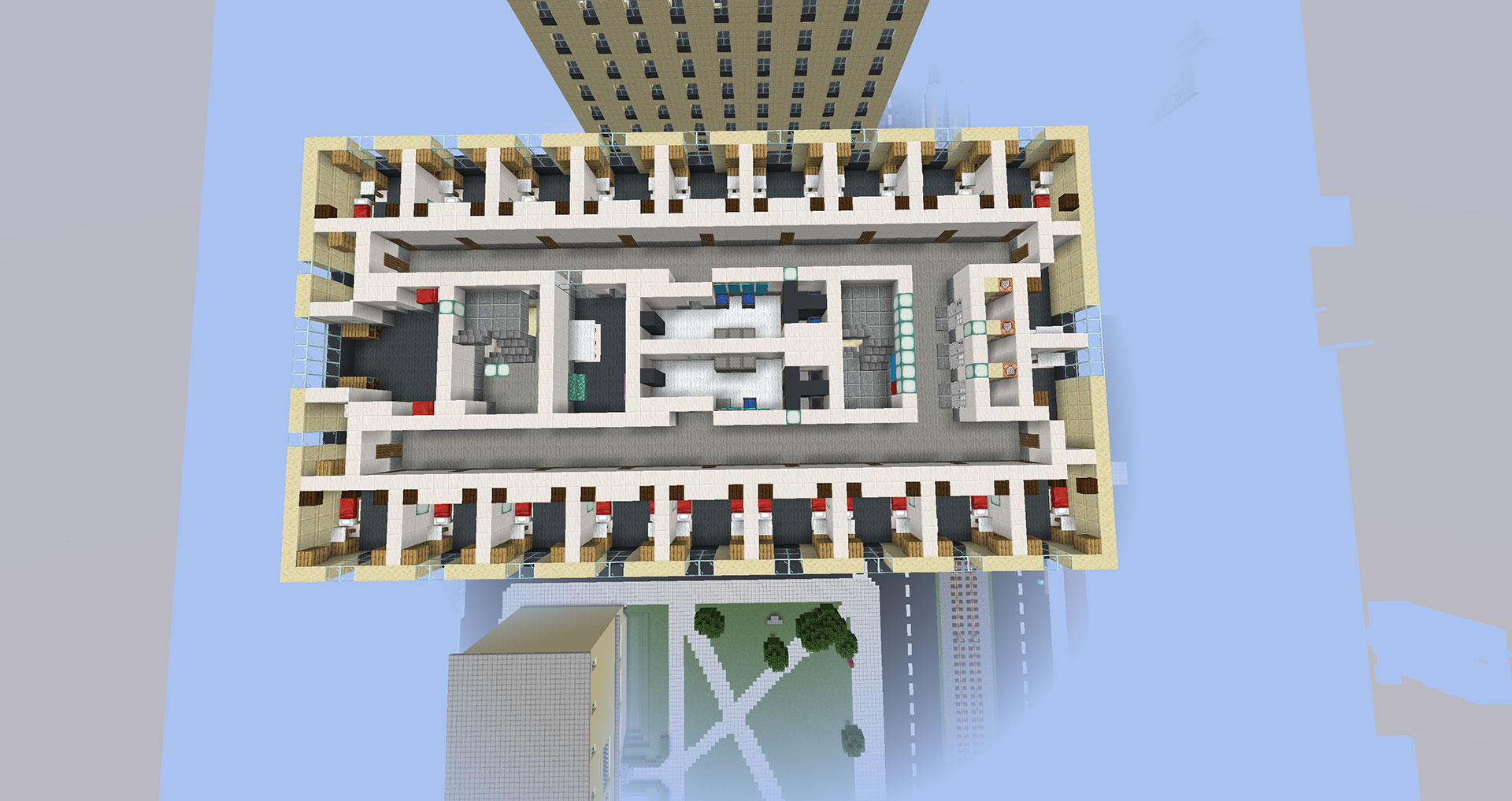 ---
Plan Housing
Every year students are flooded with questions about housing, and our project can answer all of them. Students can see the view from their dorms, get a feel for natural lighting in their rooms, and accurately compare space availability between dorms. Students can better plan for how much they should pack and the best way to move in.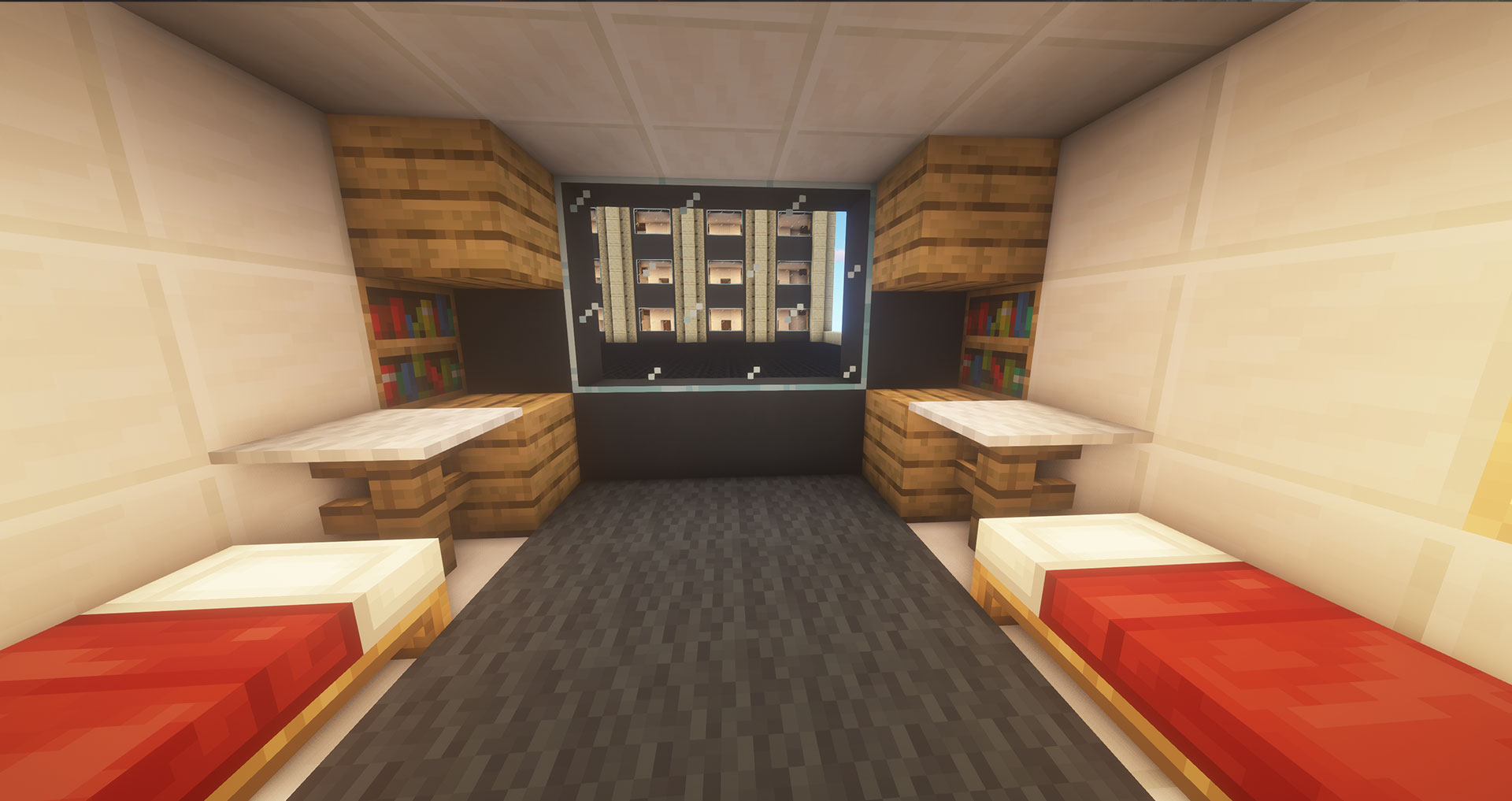 ---
Safe Exploration
Ever wondered what was behind a door? Or what purpose certain buildings served? Never gone into QST because you didnt have a class? Scared of getting caught by facilities for sneaking into the 5th floor of CAS past 10pm? This is the safest way to satisfy your curiousity!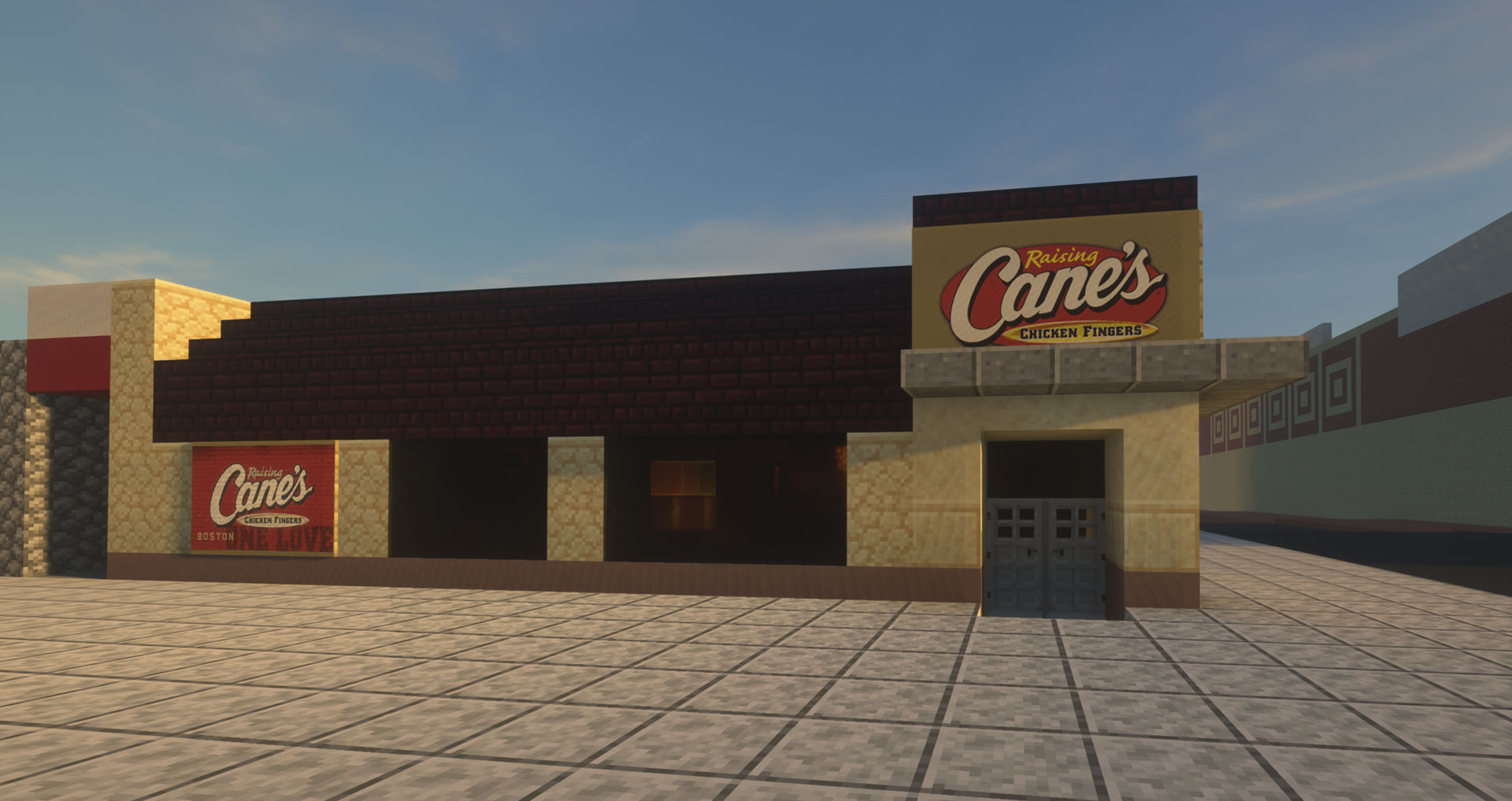 MAP
Using real open street map data we were able to generate a near 1:1 scale replica (1:1.3 if you dont account for player perspective, FOV and block dimensions) of the BU Charles River Campus. Due the increasingly popular demand to encompass the Medical Campus and Fenway Campus, we eventually said F%$k it and spent over 2000 Compute Hours to generate a foundation map for the entirety of the Greater Boston Area (14x14 miles)! Yes, this means we can actually build BC... and then grief it afterwords. However on a more ambitious note, we hope to be able to collaborate with other Bostonians that play the game, in order to build up the city of Boston.
The online dynamic map allows you to see online players move live accross all the worlds on the server. Tiles update live as people build, so what you see right now is the most up to date progress of our project. You can check out the full map below, move your mouse to the right hand side of you screen to access the view and world menu. You can also chat anonymously with players ingame in real time using the chat box at the bottom.
OUR TEAM
Jithvan
Project Lead
BU 2021

Nick
Lead Architect
BU 2023

Jachen
Builder
BU 2021

Resistant
Builder
BU 2022

Cryon1x
Builder
BU 2022

qtcc
Builder
BU 2024

Kancho__
Builder
BU 2023

FaZe_H03L0RD
Builder
BUA 2022
maya22468
Builder
BUA 2022

groxen_nin
Builder
BU 2022

GovernorHueyLong
Builder
BU 2023

Aleuz
Builder
BU 2023

Obtained42
Builder
BU 2023

emilio1244
Builder
BU 2023

dag_opiod
Builder
BU 2023

HiImTylor
Builder
BU 2023

Foxglove_Tea
Builder
BU 2022

Whammer296
Builder
BU 2022

UPDATES
From creating custom plugins, optimizing the server and fixing bugs, every change we make gets posted on our discord server so our players are always in the loop about what we are working on! We make sure all our plugins and files are always up to date to ensure that the players on the server get the best possible experience that they can. You will not find any other college server this well maintained.
We use the best commercial server hardware and technology available to ensure that we can make massive edits without interrupting anyone playing on our other worlds.